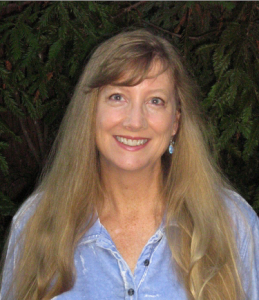 ABOUT ANDREA WALKER
I have had an inter­est in and close rela­tion­ship with the spir­i­tual realm since early child­hood, and had a mys­ti­cal expe­ri­ence with 12 lumi­nous beings of a higher realm when I was 18. This gave me a knowl­edge and belief in the exis­tence of worlds beyond our phys­i­cal realm, and was a door­way to a life­time study of meta­physics and spirituality.
I have stud­ied med­i­ta­tion and mys­ti­cism for over 30 years, and am fas­ci­nated with the mind-body-spirit con­nec­tion and the pos­si­bil­i­ties of heal­ing the body and psy­che through hyp­nother­apy, energy heal­ing and clair­voy­ant heal­ing modal­i­ties. The greater ques­tions about the human expe­ri­ence have sent me on a life-time quest. Why are we here? How do we unite with our Divine Selves and receive higher wis­dom and guid­ance? What is the deeper mean­ing of our neg­a­tive and painful expe­ri­ences? Why are we with our par­ents, sib­lings, chil­dren, spouses and lovers? How do we awaken our clair­voy­ance and intu­itive per­cep­tions? Why are we drawn to par­tic­u­lar coun­tries and his­tor­i­cal periods?
I have been inspired by the past-life regres­sion ther­apy work of Brian Weiss, a well-known psy­chol­o­gist who expe­ri­enced the amaz­ing, spon­ta­neous past-life regres­sions of his clients and now teaches world-wide, and by Michael New­ton, a psy­chother­a­pist who devel­oped a method of tak­ing clients into past lives and then into the "life between lives" of the spir­i­tual realm. As a past-life regres­sion ther­a­pist, I use guided visu­al­iza­tion jour­neys, bring­ing clients into a hyp­notic trance. I lead them into their past lives and into the spirit realm in explo­ration of the rea­sons behind their cur­rent life sit­u­a­tions and rela­tion­ships, shed­ding light on the pur­pose under­ly­ing events, ill­ness and suffering.
I spe­cial­ize in work with preg­nant moth­ers and women need­ing sup­port in fer­til­ity. I gave birth to my two chil­dren at home in peace­ful, nat­ural births and love to sup­port moth­ers wish­ing to cre­ate a pain-transcending and empow­ered birth, either at home or in the hospital.
I have worked with chil­dren for 15 years as a Wal­dorf class teacher, home-school and parent-child group teacher, and I bring a cre­ative and empathic sen­si­tiv­ity to my work with chil­dren need­ing hyp­nother­apy, using guided med­i­ta­tive jour­neys to trans­form pho­bias, habits and tantrums and develop new pat­terns of behav­ior. As a mother of two young chil­dren, I empathize with the strug­gles par­ents undergo in bring­ing up chil­dren, and I help clients find empow­er­ing ways to relieve stress and develop pos­i­tive inter­ac­tions with chil­dren and spouses.
With a devel­oped back­ground in med­i­ta­tive prac­tice, I am adept at help­ing clients release stress and cre­ate peace­ful reac­tions to demands of career and fam­ily. I have strong intu­itive and clair­voy­ant abil­i­ties and I use these in my work with clients in a deep under­stand­ing of their issues and to unveil the best avenues of spir­i­tual heal­ing and therapy.